Blueprint Engines "383 Stroker" Warranty Fix & ReInstallation Process
My experience with Blueprint Engines contracting Dave's Auto Service for the warranty labor.
This morning I dropped the 1993 Chevy C1500 Indy Pace Truck off at Dave's Auto Service in Madison, WI, and left it in the capable hands of Master Technician, Paul Buckham. This is the 2nd time I have delivered the truck to Dave's. The first time was to diagnose the problems I was having, which resulted in an "internal engine failure" diagnosis on March 4, 2020. Here's the game plan as I understand it from Blueprint Engines Warranty Department.
Dave's Auto Service has been contracted by Blueprint Engines to perform the following warranty services:
Remove the currently installed 383 Stroker (BP38302CT) from the truck and have it shipped back to Blueprint Engines, in Kearney, NB.
In 4-6 weeks (my estimate) upon receiving the rebuilt and corrected 383 Stroker engine back from Blueprint Engines, re-install it in the truck along with several modifications and upgrades that will also be provided by Blueprint:

Install a Holley Sniper fuel injection system on the appropriate manifold as supplied. This will replace the OEM TBI system.
Upgrade the fuel pressure with a booster pump to bring it to 60 psi
Install and program the Holley Sniper transmission controller for my 4L60E trans that bypasses the OEM ECU, and sync's the engine with the new Holley Sniper fuel delivery system.
Other mods that may be identified in this process
Paul has agreed to send me photos and updates on the process while the truck is in the shop so I can keep this blog up to date. I am cautiously optimistic and hopeful that this endeavor will work out well and I will end up with a truck and engine combo that really works well!
We have received notice from FedEx that the engine was delivered to Blueprint Engines on Monday, March 23, 2020. So, the work on rebuilding and correcting it can begin.
I have been in discussion with Paul at Dave's Auto Service about doing some work in prep of the engine return and re-installation. This includes:
Replace the 4L60E trans oil filter and fluids
Fabricate new solid tubing trans fluid cooling lines
Replace power steering low-pressure hose and fluids
Radiator test revealed no leaks, but a leak was found in the water pump, so that will be replaced.
Installing new coil springs designed to raise the front suspension 1 to 2 inches.
Installing Polyurethane suspension bushings front and rear to tighten up the suspension
Re-alignment after suspension work
April 9, 2020
Well, a lot has changed in recent weeks due to the Covid-19 pandemic. In Wisconsin, we are all sheltering at home and practicing "social-distancing." However, things are different in Nebraska, and I am told by the Blueprint Warranty Department that the original timeline of completing the engine rebuild by the end of April, still looks good.
I have not heard from Dave's Auto Service in recent weeks as I am guessing that they are also staying home per our state requirements. We shall see if things change in Wisconsin, and the engine will be able to be received and re-installed in early May.
April 28, 2020
I received a call from Blueprint Engines on Thursday, April 23, 2020, letting me know that the rebuilt 383 Stroker was leaving their factory that day, on its way back to Madison, WI, via FedEx. Today, the engine arrived at Dave's Auto Service, and I visited the shop to inspect the engine and its components and discuss the project with Paul Beckham. I also delivered some Eastwood Chassis and Rust Encapsulator Black spray paint for Paul to use on various sections and components of the front suspension and frame before the engine goes back in.
The dyno data sheet supplied with the engine today is very encouraging. This same 383 Stroker engine that I struggled with from the beginning was originally dyno'd at 332 HP and 426 ft.lbs. torque is now dyno'd at 363 HP and 437 ft. lbs. of torque. I assume the main factors for this improvement are the correct compression on all cylinders and the new Holley Sniper fuel injection system, with its related components.
May 1, 2020
We have hit an unforeseen and unexpected snag in this warranty replacement process. The shop that Blueprint Engines recommended, Dave's Auto Service, has been working on this project since March 4, 2020, racking up hours and expenses. To date, they have not been paid anything by Blueprint Engines. As a small business, especially during this Covid-19 pandemic, Dave's Auto Service needs some reasons to trust that all their work and expenses will be covered by a business they have never worked with before. As a result, Dave's Auto Service has requested that Blueprint Engines make a partial progress payment toward the estimated total. Blueprint Engines has responded to Dave's Auto Service by saying:
"Things are not in line with normal policy take time to make happen if at all", and "…I have to go through my supervisors and get thing done through accounting it doesn't happen right away" and "…Hope this answers your concerns… Thanks."
From my perspective as the customer caught in the middle, it seems that there should have been a clear contractual agreement between Blueprint Engines and Dave's Auto Service from the outset of this project. It should be an automatic part of the warranty process. Without that, these kinds of things happen and the customer is caught in the middle.
The customer (me) has cooperated fully with Blueprint Engines and Dave's Auto Service. I have in no way contributed to this problem. I am using the shop that Blueprint Engines recommended. Yet, it is my life and financial position that is being affected adversely. Since the truck was my primary transportation, I had to buy or rent another vehicle b(thousands of $$) to survive while the truck was in the shop. I have to pay for the added insurance to cover another vehicle (hundreds of $$).
I am using the shop that Blueprint Engines found and suggested but am caught in a financial dispute between the two entities.
The rebuilt 383 Stroker engine is back in the truck, but there are mods that need to be made because of the recommended switch to the Holley Sniper system. The known issues as of May 1, 2020 were:
Heater hose connections are in a different location and will need to be rerouted
Throttle linkage bracket sent does not support the cruise control cable
There is no place to attach a stabilizer bracket for the A/C compressor (mounted to the top of the intake manifold).
Spark plug wires are not long enough
No control for cruise or A/C if the ECM is removed
 We need to know what timing is set to check it and document it on Repair Order for future repairs.
No AN fuel lines and fittings
May 4, 2020
There was no timely reply to the May 1, 2020 email from Dave's Auto Service to Blueprint Engines about these issues. I sent a follow-up request for an answer on May 4, 2020.
I did not hear anything in response, so I called and left a voice mail for the Warranty Department on May 5, 2020. I received an email reply later on May 5, 2020, that included, "I think we have everything going forward at this time. I won't know anything on the payment for a day or two."
Even though "a day or two" was the communicated timeframe, as of May 8, 2020, I had heard nothing from Blueprint Engines about a resolution and way to move the project forward. As of May 10, 202, I still have no idea if or when a resolution between the two companies will be reached, or when I can expect to have my truck completed, running correctly and fully tested.
Ironically, I received another email as follows on April 27, 2020: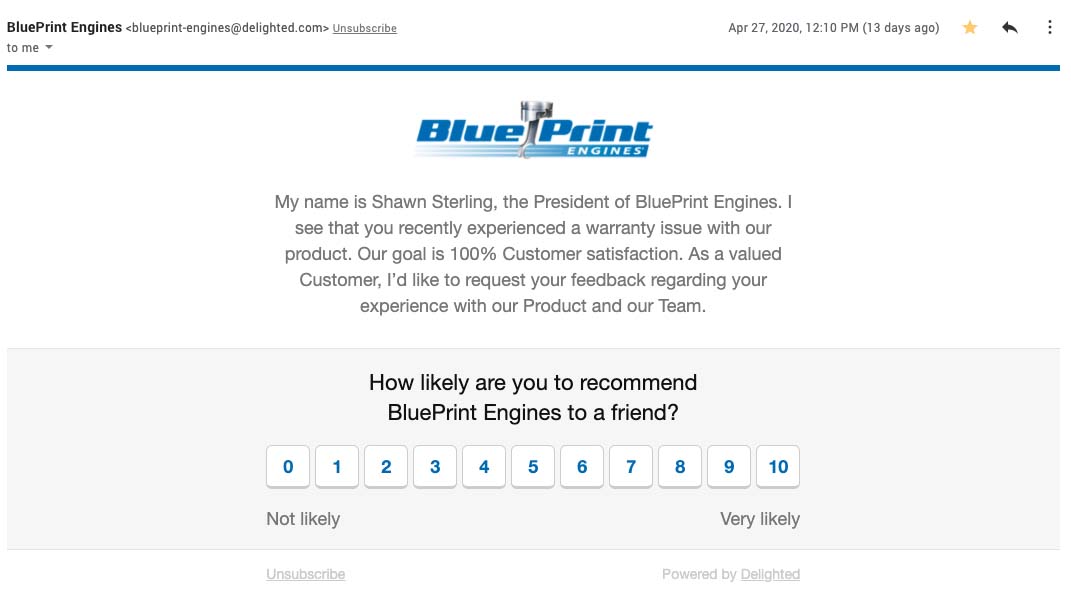 My reply on May 3, 2020 was as follows:
Shawn,
I'll be happy to respond to this request as soon as the Blueprint Engines Warranty Replacement #83735 is completed.
So far, the rebuilt engine is back from your shop and is being put back in the truck and everything is looking good and promising. There are details to still be ironed out and as long as the good communication and coordination continue between BP, the mechanic shop, and myself, I see no reason why I wouldn't be more than happy to share my positive customer experience story and to recommend BP.
Thanks,
Randy
So, things are not looking good. There is no way I'll get this truck back by May 15th, and maybe not even by the end of the month. June 4th will be 3 months since the engine failure was diagnosed.
May 12, 2020
So, a couple of things have happened in the last 2 days. There have been emails between Dave's Auto Service and Blueprint Engines Warranty Department concerning the request for a "progress payment" as Dave's calls it, and the policy of Blueprint Engines to only pay for work once it is completed.
On May 11, 2020, Dave of Dave's Auto Service wrote a long email to Blueprint Engines explaining the reasons for the payment request and what was meant and intended by it. Blueprint Engines responded with an email outlining more of their position but also opening the door to paying half of what Dave's requested, and some additional payments later.
Later in the day, Dave's accepted that compromise payment plan, and today Blueprint Engines responded that they " …will submit for it (the check) today to go to your address."
This means that by the time Dave's Auto Service receives that progress payment, we will have lost at least a week of time on the project. I still have no idea of a project timeline or completion date.
And this is supposed to be a good customer experience? I'm supposed to recommend this to my friends?
May 15, 2020
Today, I helped a friend bring his 1973 Ford F-100 pickup to Dave's Auto Service. While there, I was able to talk with Paul and Dave about the status of my truck. The engine is in the truck. The wiring loom was removed, and all unnecessary wires stripped out. The wires are now being modified for the Holley Sniper system, and the automatic transmission controller, which will bypass the Chevy OEM ECU module.
Also, on my dime, I had Dave's install all polyurethane bushings in the front and rear suspension, plus new drop springs in front. The font is almost done, and the rear is in process.
Dave told me that he had not received the check from Blueprint Engines yet.
May 19, 2020
Today, I received a few progress photos from Paul at Dave's Auto Service.
A new A/C bracket brace needed to be custom made to connect to this Edelbrock manifold which did not have a connection in the same place as the previous manifold – see photos.
This new Edelbrock Performer manifold also did not have a heater hose connection near the distributor like the previous one, so the heater hose connection needed to be moved toward the front where the temp sensor was, and the temp sensor moved across the manifold to an unused port – see photos.
The new fuel booster pump, filter, and fuel lines have been installed – see photos.
The headers have been installed – see photos.
The throttle/cruise control cable bracket has been installed – see photos.
May 29, 2020
I stopped at Dave's to check on the project progress. The A/C and heater hoses had all been connected, and the spark plugs, wires, and wire trays installed. It is looking pretty close to being ready to test-fire it up. Dave told me he thought they would be able to wrap things up the first week of June. He also mentioned that the biggest unknown would be how much time it will take them to get paid by Blueprint Engines.
If Dave's Auto Service completes the project and submits a final invoice to Blueprint Engines by Friday, June 5, 2020, and assuming BP takes the same amount of time to pay that invoice as they took to make the first payment (May 12 to May 26 = 14 days), I may not be able to actually get my truck until  June 19, 2020.
June 1, 2020
As promised, work has proceeded on the truck and 383 Stroker engine today. The fuel lines have now been completed. After firing up the engine (see video) he was able to clean up the engine bay wiring. I am not sure of the status of the suspension work. Waiting to hear about that.
June 3, 2020
I stopped at Dave's today and was able to get an update from Paul, the Chief Technician. He had been able to take the truck out for some test spins. The new Holley Sniper intake system was in "learning" mode and barely ran at first. However, after making an adjustment to the throttle position sensor, it improved. Paul has really done a nice job in the engine bay with all the new wiring, sensors, and hose positions. It looks very tidy and professional.
The interior has some work yet to do. The new Holley ECM will be located behind the glove box, next to the original ECU. An LCD control panel will be stored in the glove box for access when needed. Another LCD panel will be mounted on the dash directly above the temp controls. This panel will give me access to any/all data from the engine and its sensors. It's pretty impressive… I have a lot to learn about this new EFI system.
I asked about the oil they used. Apparently Blueprint Engines did not supply oil as they had originally promised, so Dave's used high-zinc Lucas Oil that meets BP specs.
I also noticed the change in the front suspension height. The new drop springs raised the front at least a couple inches. The front is still lower than the back, but now maybe I won't bottom out so often! I may raise the rear slightly later on.
We discussed timing and it looks like the truck may be completed sometime next week.
June 9, 2020
I've been told via email by Paul at Dave's Auto Service that the Blueprint Engines 383 Stroker Warranty work was completed on Friday, June 5, 2020, and their warranty work order invoice submitted to Blueprint Engines Warranty Department. Today, four days later, I've asked for an update from Dave's Auto Service as to when I'll be able to pick up the truck. They have told me that Blueprint Engines has yet to pay that invoice. In fact, the only thing BP has done is to question their invoice, even though they were told and kept up-to-date during the process what the likely final invoice amount would be.
It has been over 3 months since the engine failure was diagnosed. I sent an email to the Blueprint Engines Warranty Department today, asking when I will be able to pick up my truck. I received an email back from them stating that they were wrapping things up with Dave's Auto Service.
However, Dave's Auto Service contacted me to let me know that Blueprint Engines was questioning the work they did to integrate the new Holley Sniper System into the OEM wiring harness! Since the Holley was Blueprint Engines' idea and recommendation, this doesn't make any sense to me. Because the OEM Throttle Body Injection system (TBI) used more sensors and ports, these all needed to be removed and cleaned up. If they weren't removed, I would have ended up with a wiring harness with all sorts of dangling wires and connectors going nowhere, adding to future maintenance confusion, and just looking plain sloppy. I'm not sure why Blueprint Engines thinks that would be a good customer experience and outcome.
June 18, 2020
Yesterday on June 17, 2020, I visited Dave's Auto Service. I paid the balance on the invoice for the suspension, transmission and A/C work that I was responsible for. Dave told me that he had not yet received the payment from Blueprint Engines for the warranty work they were responsible for covering. Therefore I could not take my truck home. A later email to Blueprint Engines Warranty Department asking for an update, revealed that they claimed to have sent the payment on June 12th. The payment did not arrive today on the 18th either. Obviously, "the check is in the mail" for 6 days is not normal or acceptable and it is very frustrating as a Blueprint Engines customer.
However, I did have a chance to take the truck for a test drive with Paul, the Chief Technician who did all of the work on the engine/truck. He showed me how the new Holley Sniper System worked, and how the new LCD display panel that came with it operated.
The performance of the rebuilt 383 Stroker was significantly better than when the internal failure (valve stem guides) was diagnosed over three months ago in March. The Holley Sniper makes a very different sound than the stock TBI setup – it sounds like a loud sucking sound. The Holley Sniper system is still in the "learning mode" which should improve its tuning and performance over time as I take it through a much broader range of driving scenarios and speeds.
Because we no longer use the stock ECM, two things will not work with this new setup – my cruise control and the brake warning light. I will be researching to see if there is a aftermarket cruise control that I might be able to addon. I will probably disconnect the brake system sensor so that my brake warning light isn't on all the time.
June 19, 2020
I am happy to report that the final payment from Blueprint Engines to Dave's Auto Service arrived today. Even with this good news, I am not yet able to pick up the truck because a transmission issue developed while I was test driving it yesterday on June 18th.
I've decided to start another page on the topic of the 4L60E transmission.
Lessons Learned
As soon as the warranty process is completed and I have my truck and engine back, and I am able to experience driving it and learning about the new Holley Sniper system, I will write my final lessons learned here.
The first section will describe the overall new customer experience I had with purchasing and installing the initial Blueprint Engines "383 Stroker" in my 1993 Chevy C1500 Indy Pace Truck… replacing the original Chevy 350 V8.
The second section will be about my customer experience with the Blueprint Engines Warranty Department and their process of handling warranty claims.
My purpose will be to inform other current Blueprint Engine customers or prospective new customers so that they can make better informed decisions.